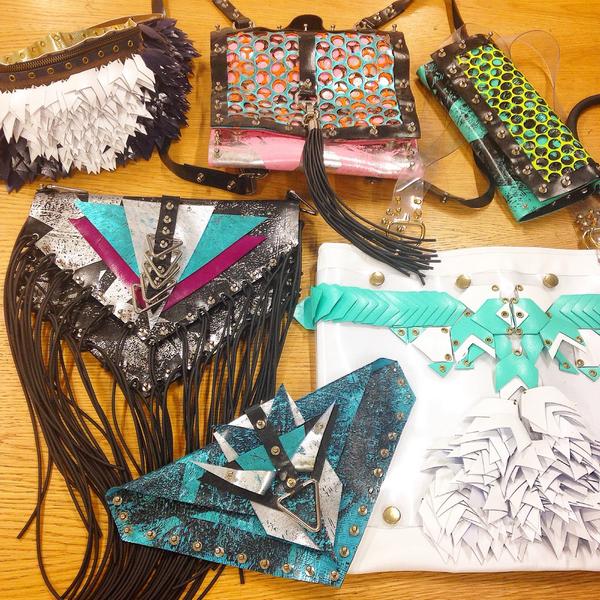 (These are a few Jane Bowler bags that she bought in for us to have a look at)
I took part in a bag design course at the V&A which was taught by fashion designer Jane Bowler and then we had a day with Hermes which does sound even more super exciting and exclusive when I write it down. Hermes flew from Paris to show us how they hand craft their bags. However Hermes is only one of the days and the rest of the course has been taught and lead by the amazing Jane Bowler, who is a British designer who's work is based around manipulating fabrics and especially using plastics to produce statement pieces.
This course has been especially useful because I feel like I've learnt about the fashion industry, the real industry. The devil wears Prada is real guys people are mean and think they are Gods. I have also learnt the reality of being a designer, in terms of the hard work, no sleep and no money for the first few years.
Asides from the fashion industry I have learnt different design methods, I particularly like futuristic fashion and smart fabrics, I also like very structured clothing, couture fashion and statement pieces, therefore working with Jane was perfect as I learnt a new method of designing – 3D designing, people may know this already, but what we had to do was experiment with paper and make many shapes and any shapes we wanted and then develop these to make a bag. I think being practical with designing is much more useful then just sitting down with a sketch book and pencil because it gives you a better starting point.
Here are some of the classes paper designs
Overall the course was fantastic, I do wish it was longer as my bag is not complete but when it is I shall post it for all you to see so do keep a watch for whenever that post happens.